Validation Services
ThinSpring Validation Services focus on delivering operational efficiency. Compliance with validation and quality standards is a given.

With national and international regulatory compliance requirements continuously changing it is difficult to keep up. ThinSpring staff are industry experienced professionals who keep pace with ever changing regulation and industry best practices. ThinSpring has been providing services to regulated industries such as pharmaceutical, medical device, biologics, chemical, and consumer products since 1997. Amidst multiple international regulatory harmonization efforts and migration towards paperless regulatory submissions, ThinSpring is well versed in the unique compliance challenges that Life Science companies face.

All ThinSpring staff have a minimum of 10 years GxP quality, information technology and regulatory experience. Our experience with multiple technologies and regulatory compliance allows us to deliver practical compliance solutions. ThinSpring takes a "risk-based" approach to compliance and computer systems validation. Practical levels of documentation are applied where needed. ThinSpring provides a cost effective and robust validation solution that is suitable for both GxP and Non-GxP systems alike.

 

 
Key Features:
 
•
GxP and Non-GxP Computer Systems Validation
 
•
IT Quality Operations
 
•
Regulatory Compliance Training

 
•
Enterprise Resource Planning Validation
 
This "risk-based" approach to validation follows both industry and regulatory best practices adding value to our clients' current compliance processes. ThinSpring Validation Services has built a solid reputation in the field of computer systems validation by offering services that are tailored to meet our clients' validation and regulatory compliance needs. We also assist, as needed, by modifying existing processes to create a best of breed validation solution.
Validation Services Process Diagram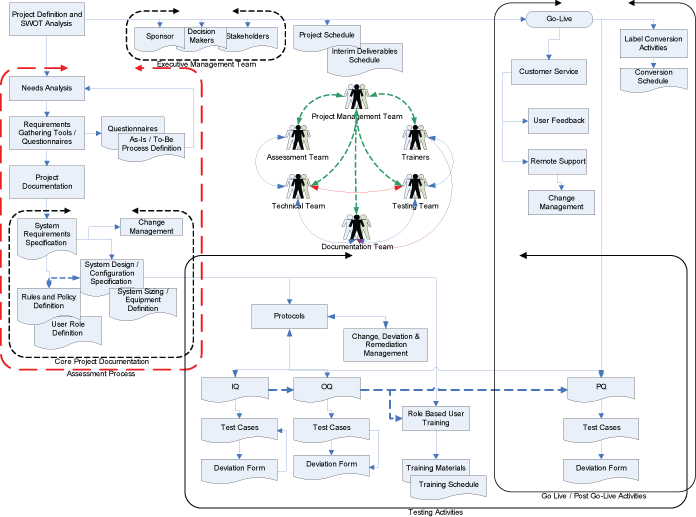 Non-GMP Computer Systems Validation:
• Risk Assessment
• Prospective, Concurrent, & Retrospective Validation
• Document Templates for Validation Deliverables
• Preparation of Validation Strategies and Plans
• Developing Validation Documentation, such as Protocols, Test Scripts, and Reports
• Execution Validation Protocols (IQ, OQ, PQ)
• Result Analysis & Documentation
• Evaluation/Assessment of Validation Documents
• On-Site Compliance Training Programs & Speaking Engagements
• Auditing internal Computer Validation Practices
• Performing quality system analysis
cGMP and Regulatory Compliance

A multi-track approach provides a system validation strategy and methodology based on proven standards and best practices. We can help you to plan, develop, and implement regulatory and compliance programs that include:

• System Design Review
• Evaluation of system compliance to 21 CFR Part 11 and other compliance guidelines
• Evaluation of system compliance to 21 CFR Part 210, 211 and 820
• Laboratory Controls
• Change Control Management
• Documentation and Control Management
• Regulatory Submissions
• GMP Drivers in Technology Transfer
• Validation Management
• Internal Audits
• Compliance Training Programs
Regulatory Compliance Training

ThinSpring Validation Services are capable of conducting training on following topics:
• Computer System Validation Principles
• 21 CFR Part 11
• Auditing for Computer-Related Compliance
• Software / Application Testing
• PDMA and Sample Accountability
• Performing validation training
• Identifying international requirements
Enterprise Resource Planning Validation

With over 20 years of ERP implementation and validation expertise and experience Thinspring Validation Services staff, using our "risk-based" approach to quality systems validation, will work with your implementation partner and IT Department to achieve a cost effective and robust validation program that is suitable for both GMP and Non-GMP environments.
Our ERP validation services include:

• Validation Project Management
• Prospective & Retrospective Validation
• Document Templates for Validation Deliverables
• Preparation of Validation Strategies and Plans for both regulated and non-regulated companies
• Developing validation documentation, such as protocols, test scripts, and reports
• Executing validation qualifications (IQ, OQ, PQ)
• Test Execution, Result Analysis, & Documentation
• Evaluation/Assessment of Validation Documents
• On-Site Compliance Training Programs & Speaking Engagements
• Auditing internal Computer Validation Practices
• Performing quality system analysis
• Performing quality system analysis
• Developing cGXP related quality system requirements
• Developing validation documentation, such as validation plans, protocols, test scripts, and reports
• Identify international compliance requirements