The first Fully Web-Based, Turn Key SPL Labeling Compliance Solution

Create SPL using our Native Structured Content Authoring Tool
Allow your regulatory operations staff, graphics designers and scientists to collaborate in real time when creating and maintaining labeling content. No new software is required on the end user's work station. Only a browser is required to access all features and functions including native structured content authoring and document management.
SPL Labeling Process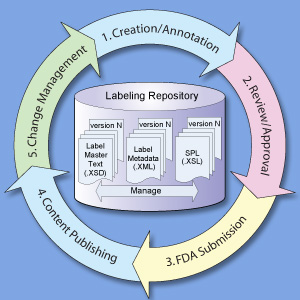 Designed for Ease of Use
Regardless of your role in the labeling life cycle, SPL Server allows you to access the most important labeling information and tasks with the fewest number of mouse clicks possible. You can easily view and manage multiple "in-process" new submissions, supplements and changes in real time. Automatic notifications and alerts identify critical path items and help you stay on top of your regulatory operations work load.
Tier One and Tier Two Validations Are Key
No SPL document will be submitted to the National Library of Medicine (NLM) if it does not pass the tier one and tier two validations. Tier one validation checks the SPL document against the latest HL7 SPL schema. We also perform a "tier two" validation to ensure compliance with the "Structured Product Labeling (SPL) Implementation Guide with Validation Procedures" document published by the FDA, which enables you to significantly reduce the risk of a lengthy review process.